Profile

shoesoffbootson's Journal
Free Account
Created on 2012-06-20 20:12:53 (#1650330), last updated 2012-08-10 (267 weeks ago)
0 comments received, 2 comments posted
4 Journal Entries, 6 Tags, 0 Memories, 5 Icons

About

Mini Bio
I'm a fat childfree heterosexual
sex-radical feminist
female Atheist library slave with mild ADD, non-mild
dysthymia
, high blood pressure, wacky mood swings, an expensive therapist, and the occasional need to make funny faces in the mirror. I'm also single-and-looking, extremely funny ha-ha and somewhat funny weird, a firm believer in responsible hedonism, an amateur knitter, good-hearted but not always well-presented, a wannabe computer geek, a hopeless mushy romantic, an avid recreational sleeper, a recovering pack-rat, pierced, given to intense but short-lived obsessions, and often way too fond of talking about myself.
My
Johari
and
Nohari
say I'm awesome. Feel free to contribute to either (and to use a pseudonym).
You might want to leave now if any of the following bother you:
My nickname is derived from the character "Lucifer" of the Christian mythology, because Lucifer offered knowledge and questioned authority and I admire that (though I don't believe any "devil" actually exists)

I think out loud, so some of what I write is not fully formulated and occasionally I just talk completely out of my ass

I don't friend people just because they friend me

I think the whole concept of "swear words" is ridiculous, so I unapologetically swear like the proverbial longshoreman

I have no patience with homphobes, Christian/religious-supremacists, and hypocrites (if you find me being one, feel free to tell me)

I don't share lots of the conventional taboos about sex, so sometimes I "go there"

I tend to talk way too much about whatever fandom I'm into at that moment (current obsession is the Marvel movie!verse, especially Bruce/Tony).

I'm prone to starting discussions and not finishing them when my mind wanders

I have Dysthymic Disorder and when it's acting up I can be a real downer

I'm a complete wanker when I talk about music, especially when I get on a tear categorizing my mp3s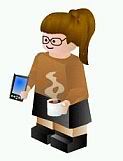 is me in Lego and looks somewhat like me.

is me in South Park style and looks JUST like me. Except I have legs.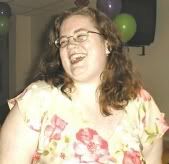 is me at my 30th birthday party, and my favorite picture of myself.
Finally, three of my favorite quotes:
"In the end, our society will be defined not only by what we create, but by what we refuse to destroy." -- John C. Sawhill
"The greatest enemy of knowledge is not the ignorance of knowledge, but the illusion of it." -- Stephen Hawking
"I hate tradition as an excuse, because sometimes tradition sucks. I don't care what people did 100 years ago or 50 years ago or 10 minutes ago, if it doesn't work for the way things are right now." -- me
Thank you for the heretical applause, I'll see you all in hell!

Connect

People
[View Entries]

Communities
[View entries]

Feeds
[View Entries]

Subscriptions (0)

Linking
To link to this user, copy this code:
On Dreamwidth:
Elsewhere: